Welcome to Mark's Masonic Junqueyard



A Tiny Little Place On The Internet With Masonic Products For Masons -- Made By Masons.


We are a small band of brothers -- we make unique Masonic, OES, Shrine and Royal Arch lapel pins, coins and Christmas ornaments for general sale. We have inventory on hand for immediate delivery of all products shown on this website. (Yes, we have some Non-Masonic Items as well.)

As well as producing a few stock products we do custom work -- for the Craft, OES, Royal Arch, Shrine, R&SM, The National Grange and for the Military.

To the left of this page, buttons will take you to areas of our website you might like to visit. And below, you can get a brief glimpse of some of our most recent custom projects.

Many thanks for your visit. Hopefully you will find something to your liking. If not, click on the contact button and describe what you might like custom produced. We can make small lots of lapel pins, coins or ornaments for those lodges which are not flush. Small can mean a quantity as low as 25 pieces.

Again, thanks for visiting.

SALE! Ignore prices marked! SALE!
Until further notice:
ALL Pins - $4.99
ALL Coins - $7.99
ALL Ornaments $7.99
ALL Car Emblems $10.99
Be notified of
page updates. Get notified by email when we update!

Translate this web site



---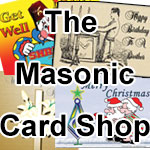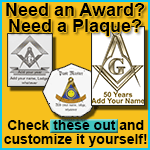 Note: We add to our site often, so please check back often!
And don't forget to bookmark our page!



---

---
Visit The Masonic Shop
Masonic shirts, beer steins, plaques, stickers, business cards and much more for Masons, Shriners, OES and
others. Including spouses and children.



---
---
Graphics and content Copyright © 2004-16
No part of this material may be reproduced in any form or
incorporated in any information retrieval system without
written permission from the Publisher.
Web Site Design and hosting by The Masonic Shop
Email the Webmaster