Creating for our Craft for more than a decade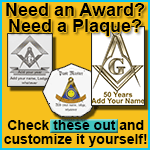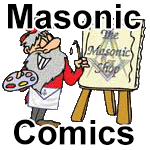 If you are in search of Unique Masonic gifts & Masonic Regalia, you have come to the right place. How do we know they're unique? We don't buy them, we make them! All designed by Masons, for our Brother Freemasons. Every design you see in our shop is our design. Our Freemason store has Masonic, O.E.S., PHA and Shrine clothing & gift ware. And we ship world wide.



NOTICE! Some folks outside the USA are reporting having some problems getting to our main site there. Seems it is intermittently re-directing somewhere else. The hosting company is working on the problem. (we have no control over it) But if you find you click on our main shop and go somewhere else, or get an error, please go back and try again. It usually works on the second try. Or try our TMSV shops. I apologize for the inconvenience.



---

About us Newsletter Archive

---

HELP!!! (FAQ & Copyright Notice)

(Updated 12/10/2013)

---

Our Other Shops:

---

Where you can customize your own products

Read our How To Customize Tips

---

The Masonic Shop V in USA - Canada - Australia - Germany - France - Brazil - Portugal - Spain - New Zealand - Japan - Austria - Belgium - Sweden - Switzerland - United Kingdom

---


(A TMSv Shop*. Customize it yourself)

---

---


(A TMSv Shop*. Customize it yourself)

---


Masonic/OES Hard Goods - Watches, Key Rings, Flasks,
Golf Tees, Playing Cards and tons more.


(shipped from overseas - 2 to 4 week shipping time)

---

Scarves, Umbrellas, knit caps, track pants, robes, shorts, pillow cases, laptop skins & more

---

Where the Freemason Shops

---

(Made in Canada!) Add any design to any of the products and add text too.

---

---

Shop for Masonic Gifts & Regalia on Amazon.com


---




---

Fine HI Quality Masonic, OES & Shrine Rings & Jewelry


---

Our non-Masonic Art work shop


All coupons valid for The Masonic Shop V are valid here.

---

The OES Shop

---

The Shriners Shop

---

The Master Mason

---

The Masonic Mall

---

Masonic Treasures

---

The Masonic Shop Logo Shop Like our Logo?
Wear it! At deeply discounted prices.

---

CONTACT US and/or sign up for our newsletter!



---

The Blog

---

Become an affiliate

---

Registered Affiliates (Password required)

---

Need that Special "Custom" order? Let us know what you need Right Here.

---

Check out our

---

---

Why? I have no idea.

Well except for the special deals I put there now and then!

---

Get your "Brothers" Regalia


---

Masonically Masonical
Links

---

Translate this web site

Note: Images on the Masonic Shop pages are optimized for faster web download.
Final products use high resolution images.
All product images are © The Masonic Shop. All rights reserved.

---

Returning veteran?

Warriorgateway

---

Remember The Fallen

---
| | | |
| --- | --- | --- |

Check us out! We add new items quite often. (Almost every day) Visit our new additions section for our latest in unique Masonic goods. We are also adding some non-Masonic items we hope you get a kick out of as well, so don't be a stranger! And remember, we offer a 100% Money Back Guarantee On All Products!!! Oh, and bring a lunch. We have OVER 24,000 Fraternal products (at last count, over 24,000 in our main Masonic store alone!) for our craft on line (and counting, but who's counting?) (Oh. Nevermind. It's us.), which makes us the largest Masonic shop on the planet!
If you've noticed, we have 19 shops! Including the OES II shop and the Shriners II shop. And that count is only in our main shop. You'll find a link to those on the The Masonic Shop V page. (Where you can customize our products yourself) We have just about everything from soup to nuts. (Sorry, still no bananas) So you can add many thousands of other products to that count as well.

If you are requesting a custom design, providing feedback, or if you have any other general questions for any of our shops, please use the form on our contact page, or simply drop us an email at the
Gifts

For our better halves!

And if you would like to

link to our page

from your

website, feel free. We'd be proud to be listed there.
---
Advertisers
Shop Amazon's Kindle Accessories Store

The Masonic Shop. The place where Freemasons world wide shop.


www.themasonicshop.com

Check out
Affiliate Fund Raising Program
for your Masonic Lodge or OES Chapter.

All designs in The Masonic Shop shops are the property of The Masonic Shop and may not be reproduced without express written permission.
The photos/designs on our site are either taken/created by us or are client submissions.
If you would like to submit a design or photo to be used in our designs, you MUST be the copyright holder.
If you have any questions/concerns about our designs, please contact us through our contact form
Graphics & Layout, Copyright© 1999-2014 by The Masonic Shop & GMO Graphic & Web Design
No part of any material on this site may be reproduced in any form or incorporated in any information retrieval system without written permission from the Publisher. This site map leads to more than 40,000 items across many separate stores.