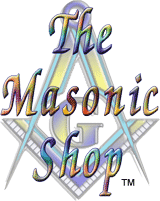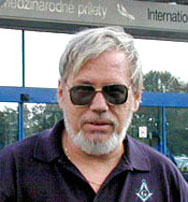 Ok, what's the deal? Well, I'm an olde', retired Brother who just does this to pass the time and create products Brothers (hopefully) will like and use. There is no "we", there's just me! Been doing it since the last century!. The Masonic Shop™ opened over a decade ago. More than 24,000 products later... I'm still at it.

I design. Designs (many requested by Brothers and Lodges) that are uploaded to various printing companies that actually do the printing. Nothing is in stock. It's printed on demand. You order it, they print it, bill it and ship it. Not to mention, guarantee it. Now, through the Masonic shop V, the OES II shop as well as the Shriners II shops there is an affiliate program set up. That is, a way to get a few bucks by sending people our way. 15% of each sale you send. You would get a check whenever your commissions go over $25 in total. http://www.gbp.net/masonicshop/affilli.html

We used to have a program on our main site but the problem was that you had to reach $100 in commissions. So Iwe decided to favor the other three shops. (There I go with the "we" again)

At any rate, all of the designs you see in my shops are unique. So if you like something, there's no where else to get it. And no where anyone else can get it. (I don't sell my designs, but that doesn't mean someone can't "borrow" the designs without permission. Sadly, that's happened before. Even the name.) And if you notice the Lodge stores in my main shop, I do custom work. No extra charge.

Considering the way it's set up with the various manufacturers there is no real way I can discount anything. The printers have the last say in that. However, in The Masonic Shop V, OES II and Shriners II, those stores do have a discount by that manufacturer. TMS V Shops discount page
---
What exactly do we have? I thought you'd never ask. Here at The Masonic Shop, we create Unique (not found anywhere else)

TOP QUALITY

Masonic, O.E.S., PHA and Shrine clothing & gift ware. Including T-shirts, sweat shirts, golf shirts, jackets, jerseys, hooded sweats, long sleeve t-shirts, kids t-shirts, ladies t-shirts, ceramic coffee mugs, tank tops, beer mugs & steins, glassware, travel mugs, caps, hats, doggie t's, pet bowls, barbeque aprons, bumper stickers, license plates & frames, business cards, skateboards, calendars, neckties, journals, stickers, mouse pads, greeting cards, embroidery, patches, wall peels, Thermos® products, prints, tile coasters, plaques, awards, teddy bears, flip flops, banners, yard signs, tote bags, wall clocks, keepsake boxes, framed pictures, messenger/laptop bags, gym bags, iphone & laptop skins, ceramic collectibles, fund raising buttons and magnets, lanyards, key chains, watches, postage, jewelry, holiday items, bananas and much more. er... bananas? Wait... I don't know how that got in there, but yes, we have no bananas.

We are, however, CUSTOMIZING CRAFT ITEMS just for you (Free!). And with the new TMSV, OES II and Shriners II shops, you can even customize items yourself! And you may want to note, we don't do screen printing! All of our clothing utilizes Direct Print for long lasting graphics.
---
On the other hand, if you have a retail store and want to sell custom to local Lodges... no problem. I can set up a wholesale section for you that is hidden from the general public and put any kind of custom design you like there. Including Shrine and/or OES. Again, no extra charge. And you can order as little as one product at a time, shipped right to your door.


So if you have any questions, just ask!

Home